SPECIAL: 3-BOOK SET By Rennie MacKenzie • BLAST! • In the Pit • That Bloody Cape Breton Coal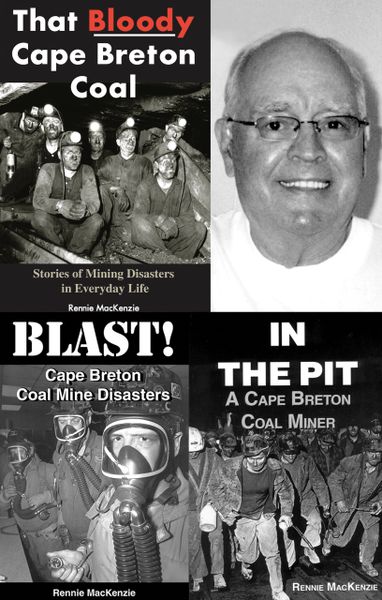 SPECIAL: 3-BOOK SET By Rennie MacKenzie • BLAST! • In the Pit • That Bloody Cape Breton Coal
SPECIAL: ALL 3 BOOKS by Rennie MacKenzie FOR ONLY $40.00
(ORIGINAL VALUE $52.85)
BLAST! — Cape Breton Coal Mine Disasters
A MONUMENT TO COURAGE AND ACHIEVEMENT—the stories of all 18 major disasters in Cape Breton's coal mine industry, from the first boiler explosion in 1877 to the last methane disaster in 1979.
Painful, often staggering stories of tragedies that resulted in 3 or more deaths—each told with insider's information about the horror and the causes of explosions and runaways, bumps and falls.
Breton Books 978-1-895415-79-7  PHOTOS • 192 pages • $18.95
In the Pit — A Cape Breton Coal Miner
A RARE, EXCITING INSIDER STORY! Here are the gripping drama and rich good humour of one man's daily work underground, from the brute shoveling at the coal face and hand-shifting tons of shaker pans, to hurling through low, narrow tunnels testing a diesel during early mechanization. You are not spared the details—or the laughs!
Breton Books 978-1-895415-70-4 • PHOTOS • 176 pages • $17.95
That Bloody Cape Breton Coal — Stories of Mining Disasters
in Everyday Life
FROM VISITS WITH FELLOW MINERS AND THEIR SURVIVORS. Rennie takes us deeper into the perils of everyday mining: men who lost arms, legs, the capacity to breathe. "Their blood is in the coal."
Breton Books 978-1-895415-57-5 • PHOTOS • 176 pages • $16.95