Watchman Against the World — The Remarkable Journey of Norman McLeod and His People, from Scotland to Cape Breton Island to New Zealand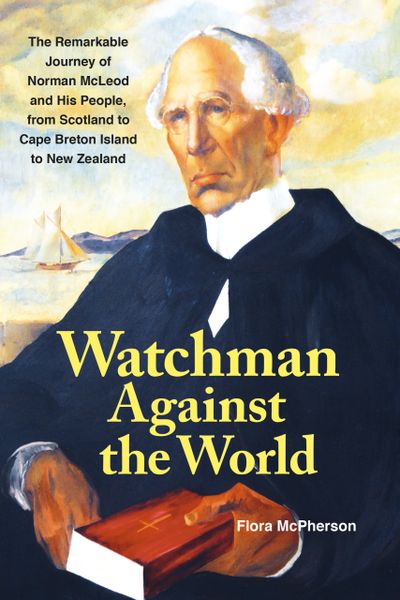 Watchman Against the World — The Remarkable Journey of Norman McLeod and His People, from Scotland to Cape Breton Island to New Zealand
by Flora McPherson • photos • 182 pages
"CHILDREN, CHILDREN, LOOK TO YOURSELVES, THE WORLD IS MAD...."
    These dying words of Rev. Norman McLeod display the tenderness and tyranny by which he created his own people out of Scotland's exiles. As their teacher, judge, minister and taskmaster, Norman bound them to himself and led them through one of history's great pioneering adventures—from their first settlement in Cape Breton Island to, 31 years later, sailing 12,000 miles to break new ground in New Zealand.
   In this beautifully told Cape Breton Classic,, Flora McPherson's Watchman Against the World brings Norman McLeod's St. Ann's Bay alive as a bustling, integrated, religious and altogether down-to-earth community. While focused on Norman and his people, this is also an excellent read through early Cape Breton history: the story of the desperation, vigour, devotion and overcoming of extraordinary odds of which the Scottish exiles were capable—and of the supports it took to mold people so potentially demoralized into an early Cape Breton success.
    "A superb picture of a physical, spiritual and mental power that left his mark on two continents. The struggle of the community, for whom he felt 'a ruthless responsibility,' is woven adroitly into the account of his life and character."—Toronto Telegram