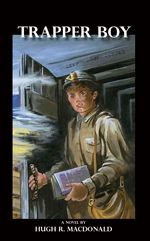 Trapper Boy — A Novel
by Hugh R. MacDonald • 160 pages

SET IN A CAPE BRETON COAL-MINING TOWN, this is the story of 13-year-old John Willie, a good student with a bright future.
As school ended for the year in 1926, he was looking forward to summer. Sure, he would have farm chores, but he would also have lots of time for fishing, building his cabin, and reading. Lots of reading.
But his father's hours at the coal mine have been reduced, and his parents face difficult decisions trying to make ends meet. One such decision will have a previously unimagined impact on the young man's life.
A first novel by an award-winning writer from Sydney Mines.