The Malagawatch Mice and the Cat who Discovered America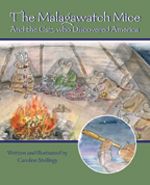 The Malagawatch Mice and the Cat who Discovered America
written & illustrated by Caroline Stellings • colour illustrations • 64 pages
A THREATENING CAT is spreading mayhem and fear in the mice's church, high on the hill above Iona, Cape Breton. The mice gird themselves for escape. But Grandpa Mouse snowshoes to nearby Eskasoni, where the Mi'kmaq mice tell of a cat who came on one of the earliest European ships. Could the Malagawatch stray be a descendant?
Filled with wit, valour, and faith in goodness.
By the author of The Malagawatch Mice and the Church That Sailed and The Manager.