The Harvest Train — When Maritimers Worked in the Canadian West, 1890 to 1928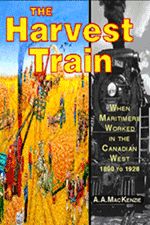 The Harvest Train — When Maritimers Worked in the Canadian West, 1890 to 1928
by A.A. MacKenzie • photos • 172 pages
ONE OF CANADA'S GREAT ADVENTURE STORIES, thousands of young Maritimers rode the trains West to work on the booming grain farms of the Prairies. Lured by the penny-a-mile fare and the promise of adventure, they survived hot dry weather and alkaline water, fly-infested beds and often skimpy food. Provoked by jacked-up prices in towns along the railroad, they fought back—brawling, stealing, and drinking. But they earned a reputation for reliable hard work, and helped build the Canadian West.
    Their story is told by the author of The Irish in Cape Breton and Scottish Lights. Tony MacKenzie hauls you aboard on the first page and takes you on a hearty, soul-jolting ride. Before he's through, you're sore from the wooden seats,  you're freezing as fellows toss chickens out the broken windows, and you're singing your heart out—dreaming of the women going West to teach, riding in the forward car. The Harvest Train delivers a wild, ribald, and heartbreaking ride!
    Includes Jan Wyers' brilliant cover painting "These Good Old Thrashing Days," and W.J.C. Cherwinski's chapter on "The Incredible Harvest Excursion of 1908."