The Education of Everett Richardson — The Nova Scotia Fishermen's Strike 1970–71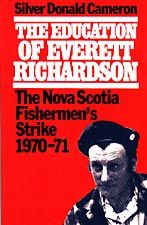 The Education of Everett Richardson — The Nova Scotia Fishermen's Strike 1970–71
by Silver Donald Cameron • photos • 240 pages
YOU WORK THREE TIMES LONGER THAN THE AVERAGE INDUSTRIAL WORKER—at half the pay. Death is an occupational hazard. And the law says you can't have a union. What do you do?...
In 1970, Everett Richardson and about 250 other Nova Scotia fishermen went on a 15-month struggle that rent the fabric of the province's society, gave rise to headlines across the country, and became a rallying point and cause célèbre for Canadian labour as a whole.
For those to whom it meant the most, this classic labour struggle was a bitter education in the realities of corporate capitalism.
Living for an extended period of time with the fishermen of whom he writes, Silver Donald Cameron gives a worker's-eye view of the system's dehumanizing results, capturing individual dramas and collective heroism. Rich in vernacular and outrage, this book takes you there!