The Checkout Girl — A Novel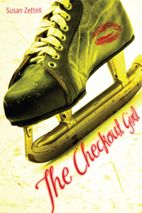 The Checkout Girl — A Novel
by Susan Zettell • 240 pages
1970 INDUSTRIAL ONTARIO, and the smell of industry is heading south just like Bobby Orr! After sneaking out on her boyfriend in Vancouver, Kathy Rausch shares a basement room with her friend Penny's boa constrictor, ignoring her well-meaning mother and dealing a bit of marijuana for Penny's husband.
When Kathy isn't checking out groceries, she practices hockey drills. But when she stumbles upon a brutal murder, she is finally driven to put her hockey stick where her heart is: on the ice.
Susan Zettell has previously published her short stories in Holy Days of Obligation and Night Watch, and in the anthology The Day the Men Went to Town. She has lived in Ontario, Halifax, the Yukon, and Cape Breton Island. This is her first novel.