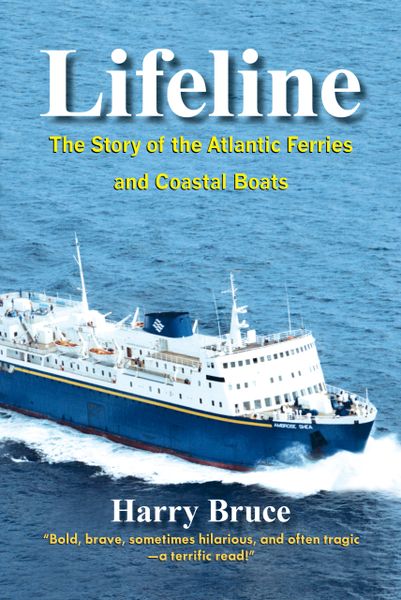 Lifeline-eBook
LIFELINE: THE STORY OF THE ATLANTIC FERRIES AND COASTAL BOATS is a fascinating, awe-inspiring, occasionally hilarious, and always vital history of the ferries that serve the Atlantic provinces, and of the coastal boats that keep rural Newfoundland and Labrador alive. It also details the amazing story of the Prince Edward Island ferries and their predecessors—the iceboats men hauled over and through the challenging icepacks of the Northumberland Strait. Here, too, are the stories of the protracted development of the Yarmouth, Nova Scotia, to Bar Harbor, Maine, ferries, and the run from Digby, Nova Scotia, to Saint John, New Brunswick.             Award-winning author Harry Bruce recounts tales of ordinary, determined citizens, heroic captains and crews, ships wrecked against ice floes and rocks and the ocean's fury, political machinations, and the tragic outcome of a Nazi torpedo's attack on the Caribou in 1942 on the Cape Breton–Newfoundland run. Harry Bruce's telling is gripping, his research impeccable, and the people who come alive in these pages will drive home the complexity of keeping the water portions of the Trans-Canada Highway intact and our island provinces within confederation.
Illustrated with a gallery of historic photographs and pictures from the Marine Atlantic fleet today, LIFELINE is a must-read for Atlantic Canadians, and their friends.
E-BOOK available now: $11.99.