From Mondragon to America — Experiments in Community Economic Development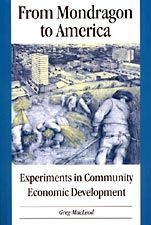 From Mondragon to America — Experiments in Community Economic Development
by Greg MacLeod • bibliography, index, photos • 250 pages
THE MOST THOROUGH EXPLANATION in English of the community economic development experiments in Spain, and their applications to communities in Mexico and Canada. Father Greg MacLeod shares both the philosophy and the practical application of methods used in encouraging development in the Basque community of Mondragon.
"This book gives real-life examples to teach activists a better way to do business."
Father Greg MacLeod is Canada's leading authority in the field of sustainable community economic development.