From Ingonish Out — New and Selected Poetry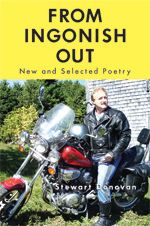 From Ingonish Out — New and Selected Poetry
by Stewart Donovan • photos • maps • 192 pages
THIS COLLECTION of Stewart Donovan's poetry lays bare a rich and generous heart devoted to the pioneer roots of a tough-to-the-core Cape Breton fishing village as it is carried into the arms of exploitation, expropriation, and modern tourism. Donovan remembers that vital core. The comedy and estrangement of growing up, the stories of his locale—provide the remarkable elegiac air that pervades these poems and the world he continues to love.
George Elliott Clarke calls Donovan "a poet of specifics" who "creates clear-eyed poems concerned with recapturing, seizing, the seen facts of an up-against-it history." Louis Dudek wrote: "A hard-rock realist with a new kind of regionalism.... You've done some terrific writing.... It's tough and intelligent."
Stewart Donovan is the author of Cape Breton Quarry, The Molly Poems, Maritime Union, The Forgotten World of R.J. MacSween, and Wake of the Aspy.