Down North — The Play of Voices from Cape Breton's Magazine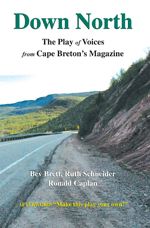 Down North — The Play of Voices from Cape Breton's Magazine
by Bev Brett, Ruth Schneider and Ronald Caplan • photos • 48 pages
MORE THAN A PLAY, this is a readable book—as if 50 Cape Bretoners were speaking directly to you, from their hearts!
From Ronald Caplan's taped interviews in 25 years of Cape Breton's Magazine, transformed into a powerful and thrilling play by Bev Brett and Ruth Schneider, and performed nearly a hundred times by the St. Ann's Bay Players—these stories stand as a portrait of the island.
The voices are pithy, moving, and wry, confirming the tenderness, good humour, and rich storytelling of Cape Breton Island.