Castaway on Cape Breton — Two Great Shipwreck Narratives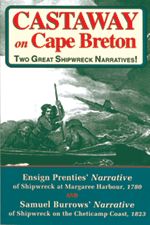 Castaway on Cape Breton — Two Great Shipwreck Narratives
144 pages
DECEMBER 1780, Ensign Prenties wrecked at present-day Margaree Harbour. With his companions, he headed north around the tip of Cape Breton. After suffering death, even cannibalism among those left behind, the survivors were finally saved by Mi'kmaq at St. Ann's Bay.
    MORE THAN 40 YEARS LATER, Samuel Burrows and his companions landed around Fishing Cove in November 1823. They crawled over steep, icy mountains, "pulling ourselves up by the trees," finally making it to Chéticamp and the rough shelter of pioneer Acadian homes—a shocking testament to the reality of early settlement on Cape Breton.
    These harrowing stories are true first-person accounts of excruciating survival and of humanity. They will mark your life!
    Castaway on Cape Breton includes an elegant historical essay by G.G. Campbell and notes about the Acadians by Charles D. Roach.