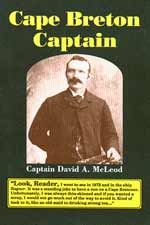 Cape Breton Captain
by Captain David A. McLeod • 156 pages
REMINISCENCES FROM 50 YEARS AFLOAT AND ASHORE.
    A rough-and-tumble autobiography of saltwater and guts and passionate romance, by a man who ended his days as a storekeeper in Cleveland, Richmond County, Cape Breton—an angry scar across his face, the result of a mutiny on his last ship. He brings life to scenes of brutality and love. From the circus riot in Port Hawkesbury to shipwreck and fist fights, love won and love lost, sea shanties and battling sails in storms—Captain McLeod was a tough, tough man.
    "Look, Reader, I went to sea in 1873 and on the ship Ragner. Unfortunately, I was always thin-skinned and if you wanted a scrap, I would not go much out of the way to avoid it. Kind of took to it, like an old maid to drinking strong tea...."