Cape Breton Book of the Night — Stories of Tenderness & Terror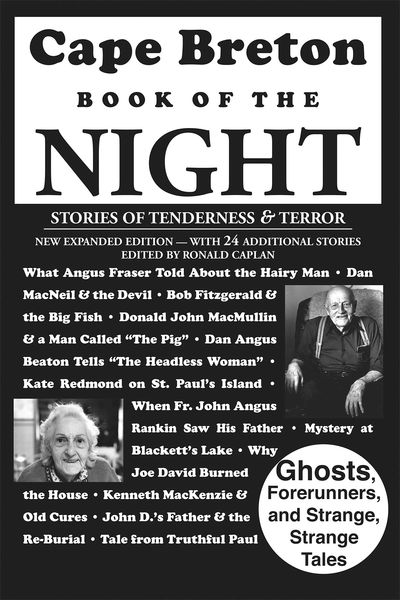 Cape Breton Book of the Night — Stories of Tenderness & Terror
collected & edited by Ronald Caplan • 75 stories • 176 pages
THE EXPANDED EDITION—from over 25 years of Cape Breton's Magazine.
    This book offers a tough, caring presentation of extraordinary experience.
    "Tenderness and terror might seem to be mutually exclusive, but these yarn spinners show awe and affection for the object or event that scared the living daylights out of them...a glimpse of the world beyond."—Eve Drobot, Globe & Mail
    What Angus Fraser Told About the Hairy Man • Dan Angus Beaton Tells "The Headless Woman" • Why Joe David Burned the House • Mystery at Blackett's Lake • A Tale from Truthful Paul • Noel Morris's Encounter with the Devil • A Corpse Unchanged • Mary Sarah MacNeil & Lights • Sorcery in Chéticamp...AND MUCH MORE!