Archie Neil — From the Life and Stories of Archie Neil Chisholm of Margaree Forks, Cape Breton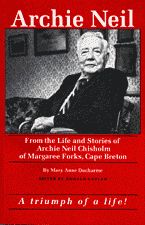 Archie Neil — From the Life and Stories of Archie Neil Chisholm of Margaree Forks, Cape Breton
by Mary Anne Ducharme • photos • 240 pages
BIOGRAPHY, ORAL HISTORY, AND ANTHOLOGY—A TRIUMPH OF A LIFE!
    Saddled with polio, pride, and a lack of self-discipline, Archie Neil Chisholm lived out the contradictory life of a terrific teacher floundering in alcoholism. His growth, plunge, and rise as an extraordinarily valuable person in the Cape Breton community are told here in a beautifully written collaboration, full of outrageous good humour and excellent storytelling.
    This book is a remarkable achievement for writer Mary Anne Ducharme, as the life itself—at once graceful and generous—is a remarkable achievement for Archie Neil Chisholm.