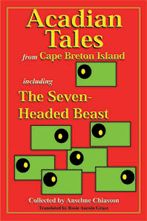 Acadian Tales
by Anselme Chiasson • translated by Rosie Aucoin Grace • 160 pages
THIS IS NOT KIDS' STUFF!
    Collected in Chéticamp, this is the first book of Cape Breton Acadian tales in English. Acadian Tales offers stories told at wakes and weddings and all kinds of kitchen rackets. These are raw, saucy tales of ridiculed kings, powerful women, and outrageous creatures—plus the antics of P'tit Jean, the marvelous Jack and Coyote of Acadian legend.
    Noted historian Anselme Chiasson collected these extraordinary tales. Rosie Grace's translation keeps them alive, startling, horrifying, and good entertainment. This is a rare and wonderful find! With slightly larger type for easier reading.
    CJCB Radio Book of the Year!